JANUARY 23 – FEBRUARY 17, 2019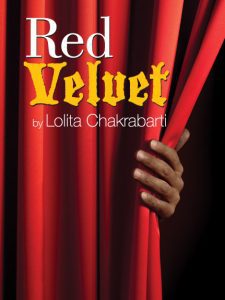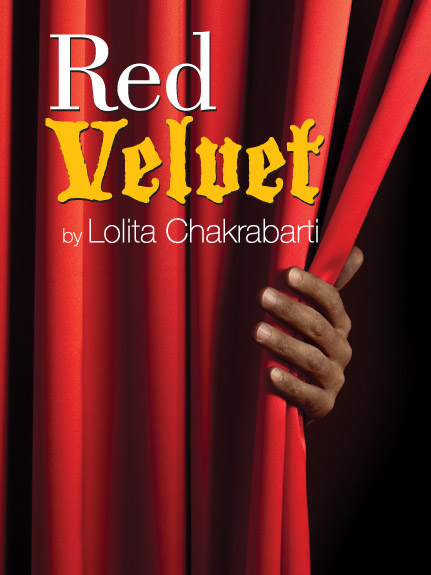 RED VELVET
By Lolita Chakrabarti
Directed by Bob Rumsby
This stirring drama transports audiences to the turbulent backstage world of London's Theatre Royal in the early 1800s. Edmund Kean, the greatest actor of his generation, has taken ill and can't go on tonight as Othello, leaving his company in disarray. A young American actor named Ira Aldridge arrives to step into the role—but no black man has ever played Othello on the English stage. His groundbreaking performance upends stage tradition and changes the lives of everyone involved. Lolita Chakrabarti's multi-award-winning play uncovers the fascinating true story of a pivotal figure in theatre history. The accomplished Aldo Billingslea, who has performed with American Conservatory Theatre, TheatreWorks, and the California and Oregon Shakespeare Festivals, among others, makes his Jewel Theatre debut as Ira Aldridge.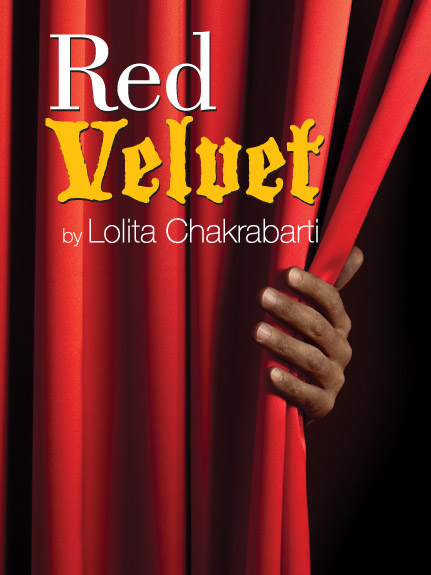 Bob Rumsby
Director
Kent Dorsey
Scenic & Lighting Designer
B. Modern
Costume Designer
Shaun Carroll
Properties Designer/Asst Stage Manager
Jessica Carter
Wig Designer
Steve Gerlach
Tech Dir./Media Designer
Emerson Sanderson
Stage Manager
Mark Hoagland
Master Carpenter
Susan Myer Silton
Dramaturge

Jesse
Caldwell*
---
as Terence/Bernard Warde

Audrey
Rumsby*
---
as Halina

Aldo
Billingslea*
---
as Ira Aldridge

Teddy
Spencer*
---
as Henry Forrester

Shannon
Warrick
---
as Betty Lovell

Jennifer
DeLane Bradford
---
as Connie

Jeremy
Kahn*
---
as Charles Kean

Jennifer
Le Blanc*
---
as Ellen Tree

Jeffrey (Geoff)
Fiorito
---
as Pierre Laporte

Cristina
Anselmo*
---
as Margaret Aldridge
---
*Member, Actor's Equity Association, the union of professional actors and stage managers in the United States.

CLICK HERE to read the SANTA CRUZ SENTINEL review.
---
CLICK HERE to read the GOOD TIMES in SANTA CRUZ review.
---
CLICK HERE to read the PERFORMING ARTS MONTEREY BAY review.
Click on a show name to view its details.
Over the River and Through the Woods (May 24 - June 18, 2023)
A Dolls House, Part 2 (March 29 - April 23, 2023)
Little Heart (January 25 - February 19, 2023)
Forever Plaid (November 16 - December 11, 2022)
Arms and the Man (September 7 - October 2, 2022)
Deathtrap (July 6 - July 31, 2022)
An Iliad (May 18 - June 12, 2022)
Remains To Be Seen (March 30 - April 24, 2022)
The Weir (January 26 - February 20, 2022)
Pump Boys And Dinettes (November 17 - December 12, 2021)
Heisenberg (September 15 - October 10, 2021)
The Other Place (January 22 - February 16, 2020)
Me And My Girl (November 13 – December 8, 2019)
A Moon For The Misbegotten (September 4 - 29, 2019)
The Explorers Club (May 8 – June 2, 2019)
Breaking the Code (March 20 – April 14, 2019)
Red Velvet (January 23- February 17, 2019)
David Copperfield, The New Musical (December 13 - 23, 2018)
SUDS: The Rocking 60's Musical Soap Opera (November 7 - December 2, 2018)
The Beauty Queen Of Leenane (September 5 - 30, 2018)
The Odd Couple (May 2 - 27, 2018)
Coming Of Age (March 14 - April 8, 2018)
Silent Sky (January 24 - February 18, 2018)
SCROOGE: The Haunting of Ebenezer (December 8-17, 2017)
Always...Patsy Cline (November 8 - December 3, 2017)
All My Sons (September 6 - October 1, 2017)
Sylvia (May 3 – 28, 2017)
The Dance Of Death (March 15 – April 9, 2017)
The Book Club Play (January 25 - February 19, 2017)
Next To Normal (November 16 - December 11, 2016)
A Streetcar Named Desire (September 7 - October 2, 2016)
Talley's Folly (May 5 - 29, 2016)
Master Class (March 10 - April 3, 2016)
Fallen Angels (January 28 - February 21, 2016)
Guys And Dolls (November 12 - December 6, 2015)
The Price (September 10 - October 4, 2015)
Woman In Mind (June 4 - 28, 2015)
Complications From A Fall (April 23 - May 17, 2015)
Harper Regan (February 26 - March 22, 2015)
Enter The Guardsman (November 6 - 30, 2014)
Saint Joan (September 4 - 28, 2014)
What The Butler Saw (May 1 - 25, 2014)
Three Days of Rain (February 27 - March 16, 2014)
Pump Boys and Dinettes (November 7 - 24, 2013)
Arcadia (September 5 - 22, 2013)
One for the Road / The Lover (April 25 - May 9, 2013)
Geography of a Horse Dreamer (February 28 - March 17, 2013)
Gunmetal Blues (November 1 - 18, 2012)
Mary Stuart (September 6 - 23, 2012)
Blithe Spirit (May 3 - 20, 2012)
Hello and Goodbye (March 1 - 18, 2012)
The World Goes 'Round (November 3 - 20, 2011)
The House of Blue Leaves (September 8 - 25, 2011)
Krapp's Last Tape (June 2 - 5, 2011)
Of Mice and Men (March 10 - 19, 2011)
Company (November 11 - 21, 2010)
Clouds (September 16 - 26, 2010
Doubt, A Parable (March 11 - 21, 2010)
Sylvia (August 20 - 30, 2009)
The Great Nebula in Orion and A Betrothal (November 5 - 15, 2009)
Starting Here, Starting Now (December 5 - 21, 2008)
Peggy, The Musical (October 25 - 26, 2008)
"I Do! I Do!" (December 7 - 23, 2007)
Women On Fire (September 14 - 30, 2007)
You're A Good Man, Charlie Brown (December, 2006)
Raised in Captivity (May, 2006)
Love Match (August, 2005)