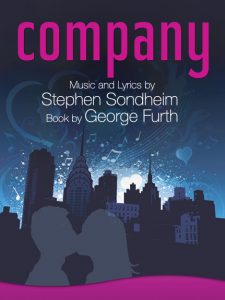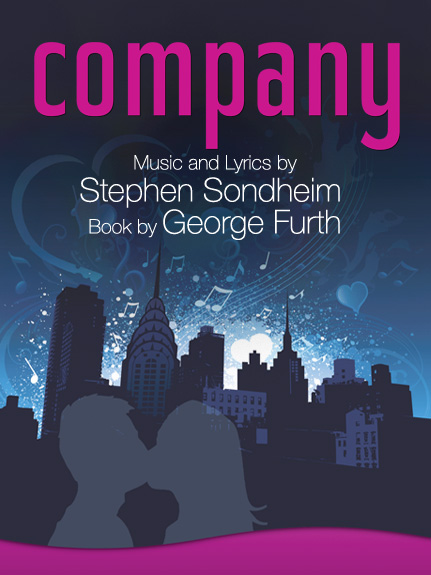 COMPANY
Music and Lyrics by
Stephen Sondheim

Book by
George Furth

Directed by 
Julie James
Set in modern Manhattan, COMPANY is a funny and sophisticated musical which explores love and commitment through the eyes of a charming perpetual bachelor questioning his single state and his enthusiastically married, slightly envious friends. Featuring hit songs such as "You Could Drive A Person Crazy" and "Ladies Who Lunch," COMPANY has won countless awards and Stephen Sondheim has been described as "the greatest and perhaps best-known artist in the American musical theatre." Sondheim wrote the music and lyrics for numerous other smash hit shows such as Sweeney Todd, Follies, A Funny Thing Happened on the Way to the Forum, and Into the Woods.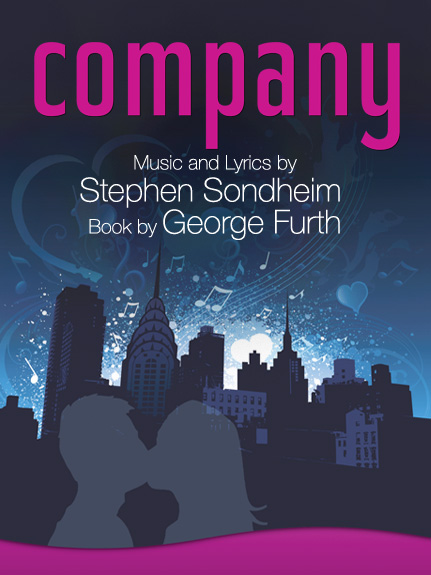 Julie James
Director
Ruth Butterfield-Winter
Musical Director
Diana Torres Koss
Vocal Director
Lee Ann Payne
Choreographer

Mike
Cymanski*
---

Lee Ann
Payne*
---

Diana Torres
Koss*
---

Diahanna
Davidson
---

Scott
MacDiarmid
---
Hector S. Quintana*
---
Matt Bariletti
---
Sarah Griner
---
Tenaya Hurst
---
Veronika Olah
---
Michael Rhone
---
Jade Shojaee
---
Daniel Swartz
---
MarNae Taylor
---
*Member, Actor's Equity Association, the union of professional actors and stage managers in the United States.
Photos
Photography by Steve DiBartolomeo
Click on a show name to view its details.
Over the River and Through the Woods (May 24 - June 18, 2023)
A Dolls House, Part 2 (March 29 - April 23, 2023)
Little Heart (January 25 - February 19, 2023)
Forever Plaid (November 16 - December 11, 2022)
Arms and the Man (September 7 - October 2, 2022)
Deathtrap (July 6 - July 31, 2022)
An Iliad (May 18 - June 12, 2022)
Remains To Be Seen (March 30 - April 24, 2022)
The Weir (January 26 - February 20, 2022)
Pump Boys And Dinettes (November 17 - December 12, 2021)
Heisenberg (September 15 - October 10, 2021)
The Other Place (January 22 - February 16, 2020)
Me And My Girl (November 13 – December 8, 2019)
A Moon For The Misbegotten (September 4 - 29, 2019)
The Explorers Club (May 8 – June 2, 2019)
Breaking the Code (March 20 – April 14, 2019)
Red Velvet (January 23- February 17, 2019)
David Copperfield, The New Musical (December 13 - 23, 2018)
SUDS: The Rocking 60's Musical Soap Opera (November 7 - December 2, 2018)
The Beauty Queen Of Leenane (September 5 - 30, 2018)
The Odd Couple (May 2 - 27, 2018)
Coming Of Age (March 14 - April 8, 2018)
Silent Sky (January 24 - February 18, 2018)
SCROOGE: The Haunting of Ebenezer (December 8-17, 2017)
Always...Patsy Cline (November 8 - December 3, 2017)
All My Sons (September 6 - October 1, 2017)
Sylvia (May 3 – 28, 2017)
The Dance Of Death (March 15 – April 9, 2017)
The Book Club Play (January 25 - February 19, 2017)
Next To Normal (November 16 - December 11, 2016)
A Streetcar Named Desire (September 7 - October 2, 2016)
Talley's Folly (May 5 - 29, 2016)
Master Class (March 10 - April 3, 2016)
Fallen Angels (January 28 - February 21, 2016)
Guys And Dolls (November 12 - December 6, 2015)
The Price (September 10 - October 4, 2015)
Woman In Mind (June 4 - 28, 2015)
Complications From A Fall (April 23 - May 17, 2015)
Harper Regan (February 26 - March 22, 2015)
Enter The Guardsman (November 6 - 30, 2014)
Saint Joan (September 4 - 28, 2014)
What The Butler Saw (May 1 - 25, 2014)
Three Days of Rain (February 27 - March 16, 2014)
Pump Boys and Dinettes (November 7 - 24, 2013)
Arcadia (September 5 - 22, 2013)
One for the Road / The Lover (April 25 - May 9, 2013)
Geography of a Horse Dreamer (February 28 - March 17, 2013)
Gunmetal Blues (November 1 - 18, 2012)
Mary Stuart (September 6 - 23, 2012)
Blithe Spirit (May 3 - 20, 2012)
Hello and Goodbye (March 1 - 18, 2012)
The World Goes 'Round (November 3 - 20, 2011)
The House of Blue Leaves (September 8 - 25, 2011)
Krapp's Last Tape (June 2 - 5, 2011)
Of Mice and Men (March 10 - 19, 2011)
Company (November 11 - 21, 2010)
Clouds (September 16 - 26, 2010
Doubt, A Parable (March 11 - 21, 2010)
Sylvia (August 20 - 30, 2009)
The Great Nebula in Orion and A Betrothal (November 5 - 15, 2009)
Starting Here, Starting Now (December 5 - 21, 2008)
Peggy, The Musical (October 25 - 26, 2008)
"I Do! I Do!" (December 7 - 23, 2007)
Women On Fire (September 14 - 30, 2007)
You're A Good Man, Charlie Brown (December, 2006)
Raised in Captivity (May, 2006)
Love Match (August, 2005)