2022-2023 SEASON
COVID POLICY UPDATE 5-10-23:
MASKS ARE OPTIONAL AT THIS TIME, however we strongly encourage all patrons to be fully vaccinated/boosted and to wear masks. See our website or call the box office for updates on this policy.
Click Here for detailed safety protocols.
---
ARMS AND THE MAN
September 7 thru October 2, 2022
By George Bernard Shaw
Directed by Nike Doukas
As a young lady awaits the return of her heroic fiancé from war, a disheveled soldier sneaks into her bedroom fleeing the fight. Finding his simplicity more alluring than her fiancé's arrogant posturing, she's faced with singling out the real man for her. Will it be the accidental hero who is more toy than soldier? Or the pragmatic coward who comes armed with chocolates instead of bullets? Crackling with wit, irony and charm, Shaw's anti-romantic comedy pokes fun at the dangers of bravado in battle and idealistic notions of love.
---
FOREVER PLAID
November 16 thru December 11, 2022
Written and Originally Directed and Choreographed by Stuart Ross
Musical Continuity Supervision and Arrangements by James Raitt
Originally Produced by Gene Wolsk

Directed and Choreographed by 

Lee Ann Payne
Music Direction by Josiah Stocker

Once upon a time, there were four guys who discovered that they shared a love for music and started a singing group like their idols, The Four Freshman. Rehearsing in one of their basements, they became "Forever Plaid", however, on the way to their first big gig, they are broadsided by a school bus. But what seems like a tragic ending is transformed into the moment their dreams come alive and the story of Forever Plaid begins… You'll love the close harmony, beloved songs of the 1950s, and charming characters who will have you laughing and humming along.
---
LITTLE HEART

January 25 thru February 19, 2023
A World Premiere
By Irene O'Garden
Directed by Susan Myer Silton
Little Heart. Big Story. This intriguing new play by Irene O'Garden is based on the life of world-famous Los Angeles artist Corita Kent. An Immaculate Heart Sister embroiled in an escalating battle with arch-conservative Cardinal MacIntyre, this gifted, conflicted woman wins international fame for her brilliant serigraphs and innovative teaching as she privately struggles with fellow sisters, students, her own spiritual doubt and her complex feelings for a famous priest.
---
A DOLL'S HOUSE, PART 2
March 29 thru April 23, 2023
By Lucas Hnath
Directed by Bill Peters
As a door slams in 1879 Norway, a wife and mother leaves behind her family, freeing herself from the shackles of traditional societal constraints. Now, 15 years later, that same door opens to reveal Nora, a changed woman with an incredibly awkward favor to ask the people whom she abandoned. Lucas Hnath's bitingly funny sequel to Ibsen's revolutionary masterpiece unfolds in a series of bristling stand-offs that reveal in Nora's world, much like our own, behind every opinion there is a person, and a slamming door isn't just an end, but also the chance for a new beginning.
---
NOW PLAYING
OVER THE RIVER AND THROUGH THE WOODS
May 24 thru June 18, 2023
By Joe DiPietro
Directed by Shaun Carroll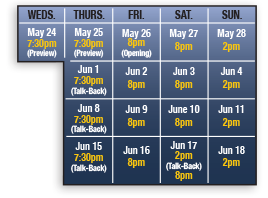 This warm-hearted, boisterously funny, and touching story about intergenerational relationships and deep familial love will have you laughing out loud and rooting for Nick, a single, Italian-American guy from New Jersey who visits both sets of his grandparents every Sunday for dinner. This is routine until he has to tell them that he's been offered a dream job. The job he's been waiting for would take him away from his beloved, but sometimes exasperating, grandparents. He tells them. The news doesn't sit so well. Thus begins a series of schemes to keep Nick around, including bringing to dinner the lovely—and single—Caitlin O'Hare.