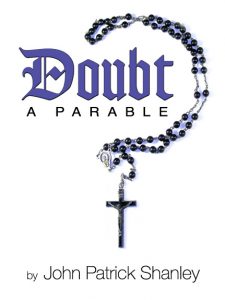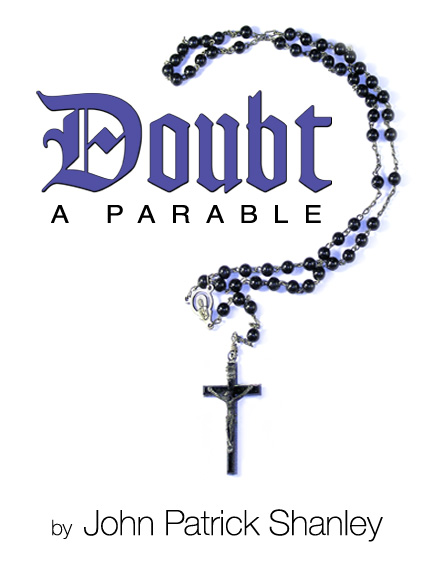 DOUBT, A PARABLE
By John Patrick Shanley 
Music by Harvey Schmidt 
Based on "The FOURPOSTER" by Jan de Hartog
Originally produced on Broadway by David Merrick
Originally directed by Gower Champion

Directed by
Erik Gandolfi
In this brilliant and powerful drama, Sister Aloysius, a Bronx school principal, takes matters into her own hands when she suspects Father Flynn of improper relations with one of the male students.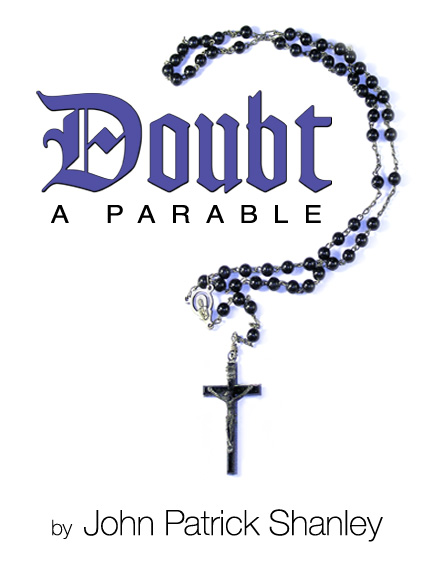 Mike
Ryan*
---

Jessica
Powell*
---

April
Green
---

Nadia Antovia
Liggins
---
---
*Member, Actor's Equity Association, the union of professional actors and stage managers in the United States.
Photos
Photography by Steve DiBartolomeo
Click on a show name to view its details.
Deathtrap (July 6 - July 31, 2022)
An Iliad (May 18 - June 12, 2022)
Remains To Be Seen (March 30 - April 24, 2022)
The Weir (January 26 - February 20, 2022)
Pump Boys And Dinettes (November 17 - December 12, 2021)
Heisenberg (September 15 - October 10, 2021)
The Other Place (January 22 - February 16, 2020)
Me And My Girl (November 13 – December 8, 2019)
A Moon For The Misbegotten (September 4 - 29, 2019)
The Explorers Club (May 8 – June 2, 2019)
Breaking the Code (March 20 – April 14, 2019)
Red Velvet (January 23- February 17, 2019)
David Copperfield, The New Musical (December 13 - 23, 2018)
SUDS: The Rocking 60's Musical Soap Opera (November 7 - December 2, 2018)
The Beauty Queen Of Leenane (September 5 - 30, 2018)
The Odd Couple (May 2 - 27, 2018)
Coming Of Age (March 14 - April 8, 2018)
Silent Sky (January 24 - February 18, 2018)
SCROOGE: The Haunting of Ebenezer (December 8-17, 2017)
Always...Patsy Cline (November 8 - December 3, 2017)
All My Sons (September 6 - October 1, 2017)
Sylvia (May 3 – 28, 2017)
The Dance Of Death (March 15 – April 9, 2017)
The Book Club Play (January 25 - February 19, 2017)
Next To Normal (November 16 - December 11, 2016)
A Streetcar Named Desire (September 7 - October 2, 2016)
Talley's Folly (May 5 - 29, 2016)
Master Class (March 10 - April 3, 2016)
Fallen Angels (January 28 - February 21, 2016)
Guys And Dolls (November 12 - December 6, 2015)
The Price (September 10 - October 4, 2015)
Woman In Mind (June 4 - 28, 2015)
Complications From A Fall (April 23 - May 17, 2015)
Harper Regan (February 26 - March 22, 2015)
Enter The Guardsman (November 6 - 30, 2014)
Saint Joan (September 4 - 28, 2014)
What The Butler Saw (May 1 - 25, 2014)
Three Days of Rain (February 27 - March 16, 2014)
Pump Boys and Dinettes (November 7 - 24, 2013)
Arcadia (September 5 - 22, 2013)
One for the Road / The Lover (April 25 - May 9, 2013)
Geography of a Horse Dreamer (February 28 - March 17, 2013)
Gunmetal Blues (November 1 - 18, 2012)
Mary Stuart (September 6 - 23, 2012)
Blithe Spirit (May 3 - 20, 2012)
Hello and Goodbye (March 1 - 18, 2012)
The World Goes 'Round (November 3 - 20, 2011)
The House of Blue Leaves (September 8 - 25, 2011)
Krapp's Last Tape (June 2 - 5, 2011)
Of Mice and Men (March 10 - 19, 2011)
Company (November 11 - 21, 2010)
Clouds (September 16 - 26, 2010
Doubt, A Parable (March 11 - 21, 2010)
Sylvia (August 20 - 30, 2009)
The Great Nebula in Orion and A Betrothal (November 5 - 15, 2009)
Starting Here, Starting Now (December 5 - 21, 2008)
Peggy, The Musical (October 25 - 26, 2008)
"I Do! I Do!" (December 7 - 23, 2007)
Women On Fire (September 14 - 30, 2007)
You're A Good Man, Charlie Brown (December, 2006)
Raised in Captivity (May, 2006)
Love Match (August, 2005)