Seating Chart & Accessibility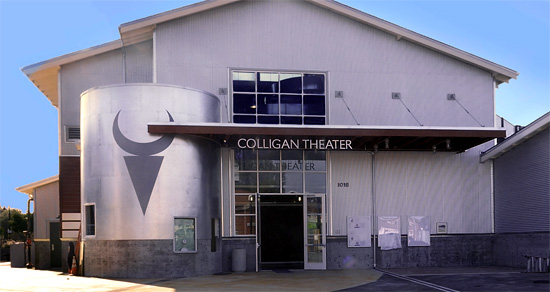 The COLLIGAN THEATER at the Tannery Arts Center
1010 River Street, Santa Cruz
Jewel Theatre has a stunning venue to perform in — the Colligan Theater at the Tannery Arts Center.
Located at 1010 River Street, the Colligan provides a large stage and seating capacity for 182. Built and owned by Tannery Arts Center, Inc. (TAC), the Colligan Theater at the Tannery opened in November 2015 in the renovated historic Hide House and is managed by Jewel Theatre Company.
The Colligan Theater has:
• 182 seats with two aisles and lots of distance between rows for extra leg room.
• A high rise from one row to the next for a better view of the stage.
• Equipped with a hearing assistance system.
• A spacious lobby with concessions bar, and restrooms with plenty of stalls.
• Dozens of free adjacent parking spaces exclusively for theater patrons.
• Large stage areas for dynamic sets and lighting, and capacity to stage classic plays.
---
The Colligan Theater is available for rental when Jewel Theatre is not performing.